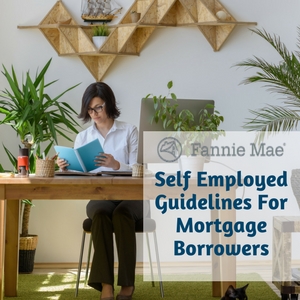 A borrower is considered self employed if they have 25% or more ownership in a business.
Contract or 1099 employees are self employed borrowers.
Sole Proprietorships
Corporations
Limited Liability Company (LLC)
Partnerships
Notes:
Tax Returns are always required for a self employed borrower.

Depending on the business structure, the borrower may have business returns in addition to their personal tax returns.
1099, Sole Proprietorships, and LLC self employed borrowers typically file Schedule C on their personal tax returns.
Corporations and Partnerships will file Business Tax Returns in addition to their personal returns. The business returns will include K1's listing the borrower's ordinary business income and percentage of ownership.
Corporation and Partnerships may also have W2 income in addition to their K1's.
All self employed income is calculated per agency guidelines.

Self employed income requires a 2 year history. 

Declining self employed income typically cannot be used unless allowed by specific agency or loan program.
Joel Lobb (NMLS#57916)
Senior  Loan Officer
American Mortgage Solutions, Inc.
10602 Timberwood Circle Suite 3
Disclaimer: No statement on this site is a commitment to make a loan. Loans are subject to borrower qualifications, including income, property evaluation, sufficient equity in the home to meet Loan-to-Value requirements, and final credit approval. Approvals are subject to underwriting guidelines, interest rates, and program guidelines and are subject to change without notice based on applicant's eligibility and market conditions. Refinancing an existing loan may result in total finance charges being higher over the life of a loan. Reduction in payments may reflect a longer loan term. Terms of any loan may be subject to payment of points and fees by the applicant  Equal Opportunity Lender. NMLS#57916 http://www.nmlsconsumeraccess.org/
— Some products and services may not be available in all states. Credit and collateral are subject to approval. Terms and conditions apply. This is not a commitment to lend. Programs, rates, terms and conditions are subject to change without notice. The content in this marketing advertisement has not been approved, reviewed, sponsored or endorsed by any department or government agency. Rates are subject to change and are subject to borrower(s) qualification.
—
Joel Lobb
Mortgage Loan Officer
Individual NMLS ID #57916
American Mortgage Solutions, Inc.
Text/call:      502-905-3708